BIORez Meta Health Analyzer NLS
US$ 5,533.00
This is our flagship clinical-grade bio-resonance diagnostic and meta-therapy tool. Choose your investigation from a massive database of topics including microorganisms / helminths, pathology, biochemical homeostasis, allergens, emotion matrix, chakras / aura, toxins, heavy metals, and many more. Correct imbalances and remediate disease with meta-therapy. Assess and apply virtual physiotherapy to limbs, body parts, organs and sites.
Description
Accurate and convenient diagnosis is a cornerstone of vibrant health in this modern age.  Non-linear system technologies (NLS) have proven their worth to us as a modern day essential tool for maintaining personal health.
The BIORez Meta possesses a profound ability to accurately measure and forecast disease and illness.  Essentially a frequency generator and analyzer, It is able to inspect and diagnose the health of an individual by generating electromagnetic pulses of known frequencies.  These signature sound waves are broadcast into your field using bio-inductive headphones or a remote quantum black box. The resultant resonance is measured, resolved, and organized for practical use.  The scope of research is determined by the topics and inspections you choose from the extensive database included in the software. The system can determine detailed information about your health and assist you to re-calibrate to healthy frequencies which can initiate self healing of overlooked or disconnected parts of your body and mind.
The Setup
A host unit contains the electronics that are driven and controlled by a software with a vast database of information necessary to conduct scans and perform treatments. The user friendly software interface effectively organizes and manages the data that it generates for interpretation, analysis and treatment.  The software is available in many languages.
Test Topics and Spectral Etalons
The software contains a database with over 5000 spectral etalons.  Etalons are test items (i.e. frequency sets) that can be resonantly measured.  They are organized into specific topics.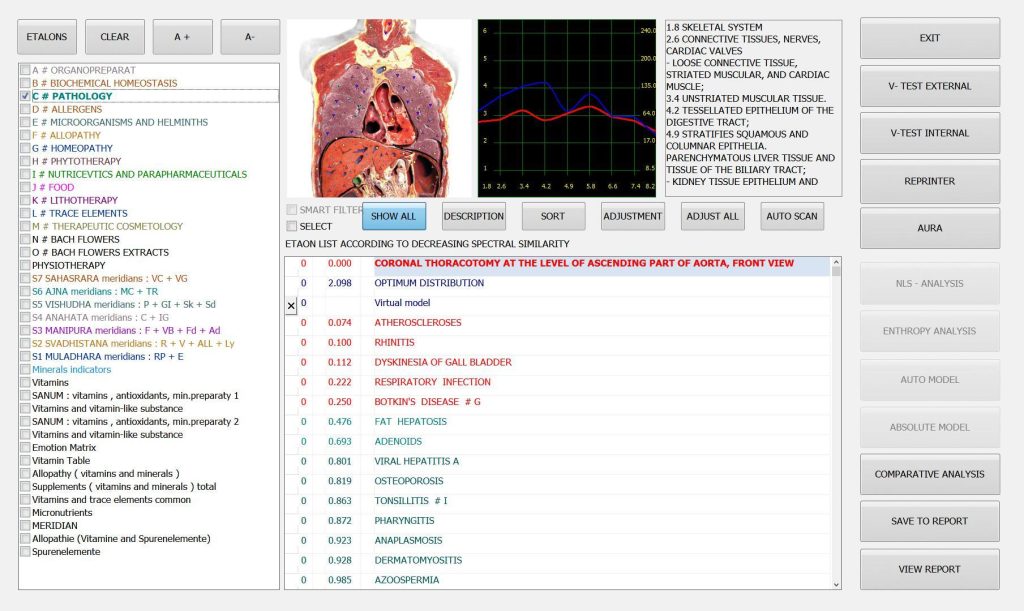 The main topics include:
Microorganisms (aka parasites, pathogens) – check for the presence of certain types microorganisms (etalons) in the body.  There are 179 different types of microorganisms in the database.
Some of the main etalons include:
bacterias – borrelia (Lyme disease), e. coli, h. pylori, kingella, salmonella, staphylococcus, streptococcus, toxoplasma, mycoplasma, ureaplasma
fungus – aspergillus, candida, mucor
protozoa – giardia, histolytica, leishmania, entamoeba
viruses – coronavirus, adenovirus, AIDS, cytomegalovirus, ebola, Epstein Barr, hepatitis, herpes, influenzas, rhinoviruses, rotavirus
worms – ascaris, roundworm, fluke, hookworm, pinworm, threadworm, trichinella, tapeworm
Pathology – check for the presence of disease and injury conditions currently taking place.  There are 688 types of pathology (etalons) in the database.
Emotion Matrix – yes even emotions have a frequency and are very important in determining root causes of illness
Allergens – check for the presence of allergic elements including chemicals, drugs, foods, heavy metals, household.  There are 181 types of allergens (etalons) in the database.
Toxins – check for the presence of toxins including alcohol, caffeine, carbon monoxide, chemicals, dairy, drugs, food, gluten, injury, other metals, radiation, sugar, tobacco and more.  There are 30 types of toxins (etalons) in the database.
Food – this topic can identify beneficial foods specific to your field, organs, and present conditions. if there is a strong response to certain foods then this can signify deficiencies and foods that your body can benefit from. There are 240 types of food (etalons) in the database.
Neutraceuticals and Parapharmaceuticals – from a list of hundreds of test items, this topic can identify beneficial natural medicines specific to your field, organs, and present conditions.
Organopreparat – Resolves beneficial frequencies that can be used for remedy preparation with the vegetotest reprinter function.  The reprinter function is a form of homeopathic preparation where a medium such as water is used to encode and store specific frequencies for intonation.  It is a functional alternative to live and remote meta-therapy.
Biochemical Homeostasis – Detects hormones, vitamins,chemicals that are out of balance
Indicators – key etalons organized as indicators and detectors of health including metabolic, key optimization, vitamins, minerals, essential fatty acids, amino acids, toxins, microbiology, EMFs and ELFs, food avoidance, food additives
Download the complete Topic and Test Items Listing
Aura and Chakra Analysis
The software visualizes the shape and integrity of the aura.  Investigate energy patterns and origins of disorder and chaos.  View etalon resonance by chakra.  An effective way to diagnose the field in conjunction with the other information gathered and correlated.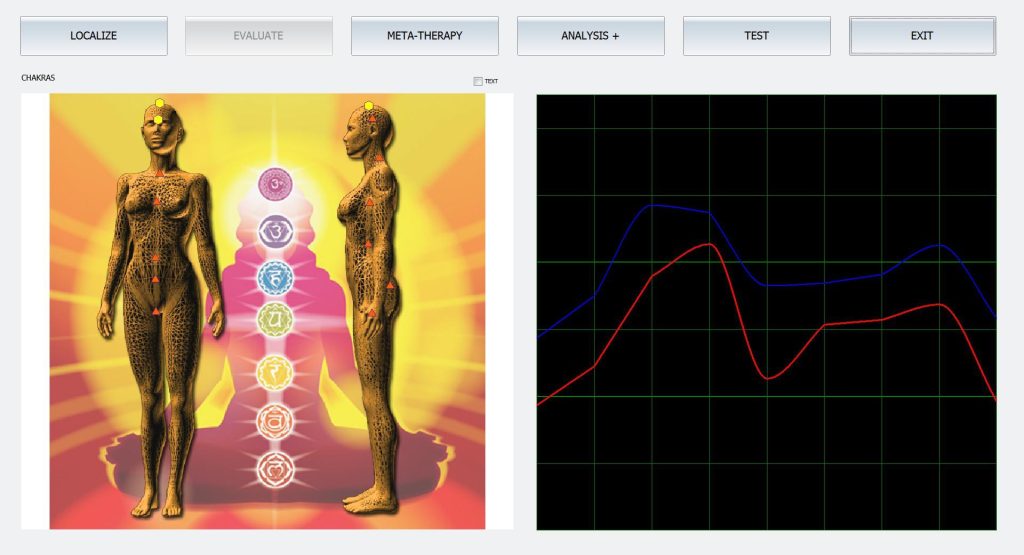 Therapy
The system features a bio-resonance therapy called Meta-therapy. This frequency based treatment can be applied to the chakras, organs and sites both live locally and remotely with the Remote Quantum Black Box. The basic principal of action is as follows: The brain will receive a signal regarding the need to test one or more organs of the body. This signal is displayed on the software interface while it is being sent into the headphones or Black Box. The signal represents a series of electromagnetic oscillations characteristic of healthy organs. Every human body possesses its own particular spectrum of electromagnetic oscillations. The question regarding the state of the health can be explored, and in response to a question, the subject's brain provides an answer, which is then perceived by the sensors. The outcome represents the state of the body organism.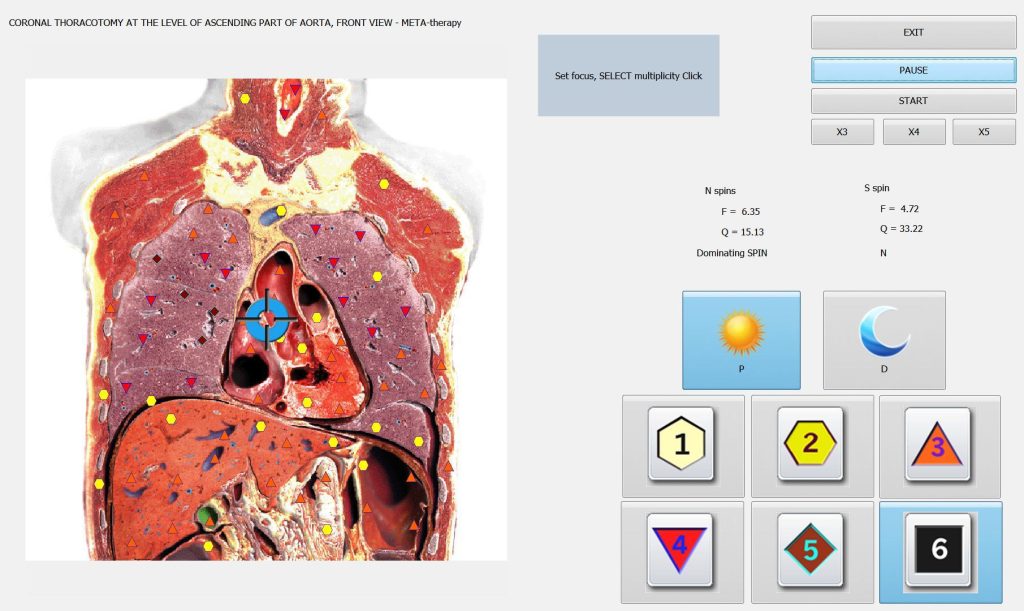 Conditions Treated With Bio-resonance Therapy:
Allergies
ADHD
Acute Infectious Diseases
Bronchial Asthma
Autoimmune Diseases
Degenerative Organic Diseases
Rheumatic Diseases
Arthropathy
Gynecological Disorders such as: Painful menstruation, Hormonal Imbalance, Pre-natal Treatment
Immunodeficiency of varied origin
Post-Vaccine complications
Intoxication and toxic stress
Headaches and migraines
Mycotic and parasitic disorders
All types of pain
Neurodermatitis and eczema
Sports injuries
Metabolic diseases
Pre and postoperative treatment(s)
Secondary viral disorders
Urological disorders
Much More…
The frequency based therapy functionality is rounded off with several other forms of treatment:
Physiotherapy – simulates this type of therapy to various conditions for profound effects.
Lithotherapy – virtual therapy with stones.  Stone is a mineral being with a physical and energetic constitution. Both man and stone are carriers of energy. Therefore, all beings interact with each other. The principle of lithotherapy is the manifestation of how the stone will resonate with us. How it will penetrate us. This means that on the one hand it will absorb energies that are transmitted to it, which are specific to its constitution and which do us good. The stone will give us confidence, love and vitality. At the same time, it will absorb what it does not need.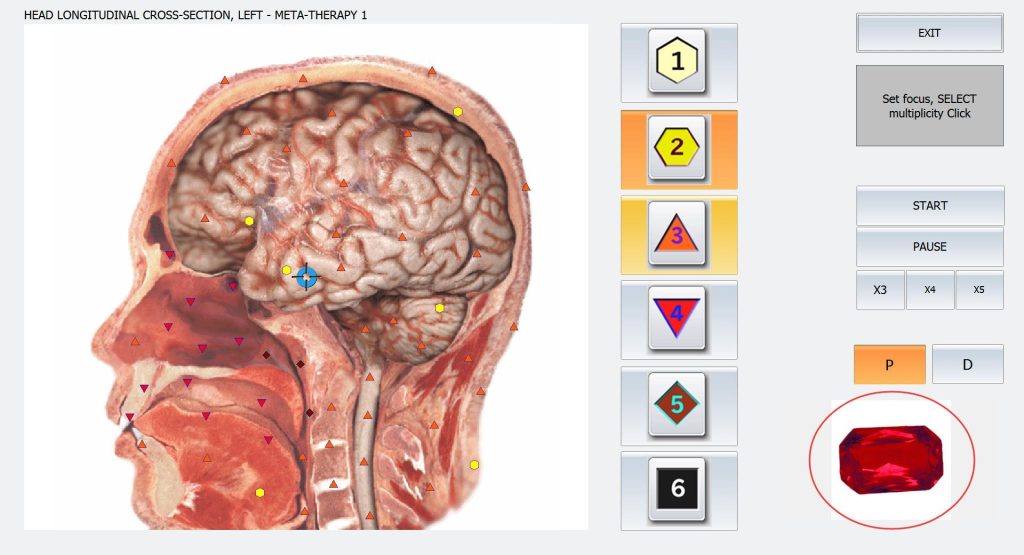 Phytotherapy – simulates herbal preparation therapies.
Homeopathic Remedy Preparations – encode typical homeopathic mediums with the re-printer function and save those remedies in the database.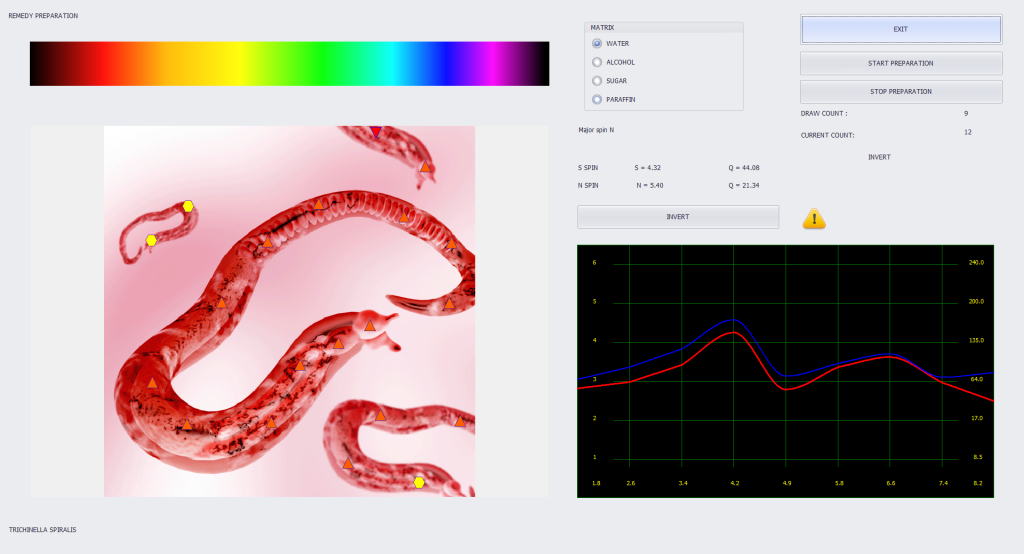 Comparative Analysis
The software visualizes a comparison pane to view and compare two scans simultaneously.  Calculations of the changes in energetic state are reported.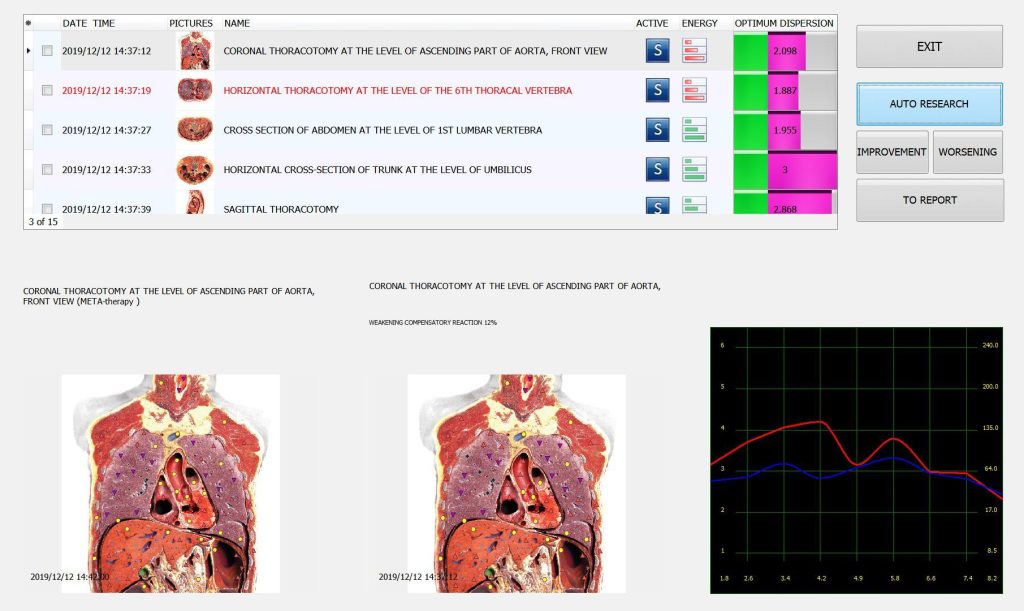 Reporting
Ready to use lab reports are included. The flexible reporting system includes the ability to select which data to include, modify the design of the reports, create your own or use what is already there.  There are also custom templates that you may download and install.
The software contains an Advanced Auto-Reporting function that helps automate the compilation and reporting of the scan results.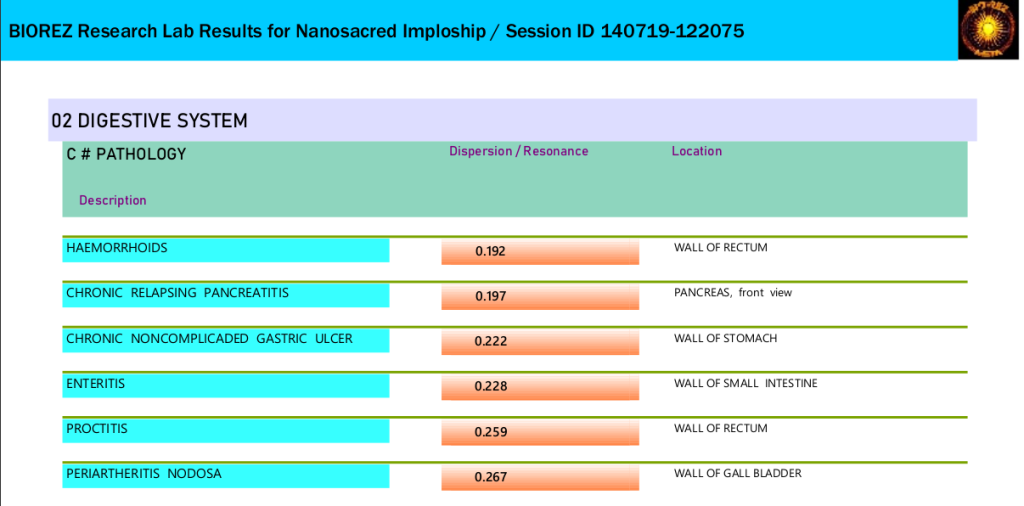 Download this example of a customized bio-scan report in PDF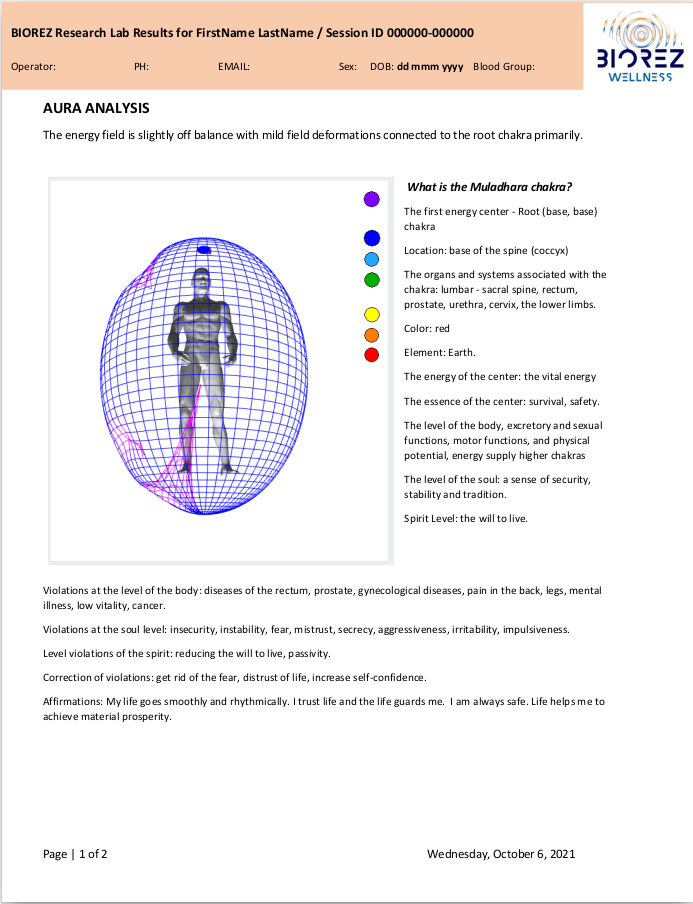 Download this example of a customized aura report in PDF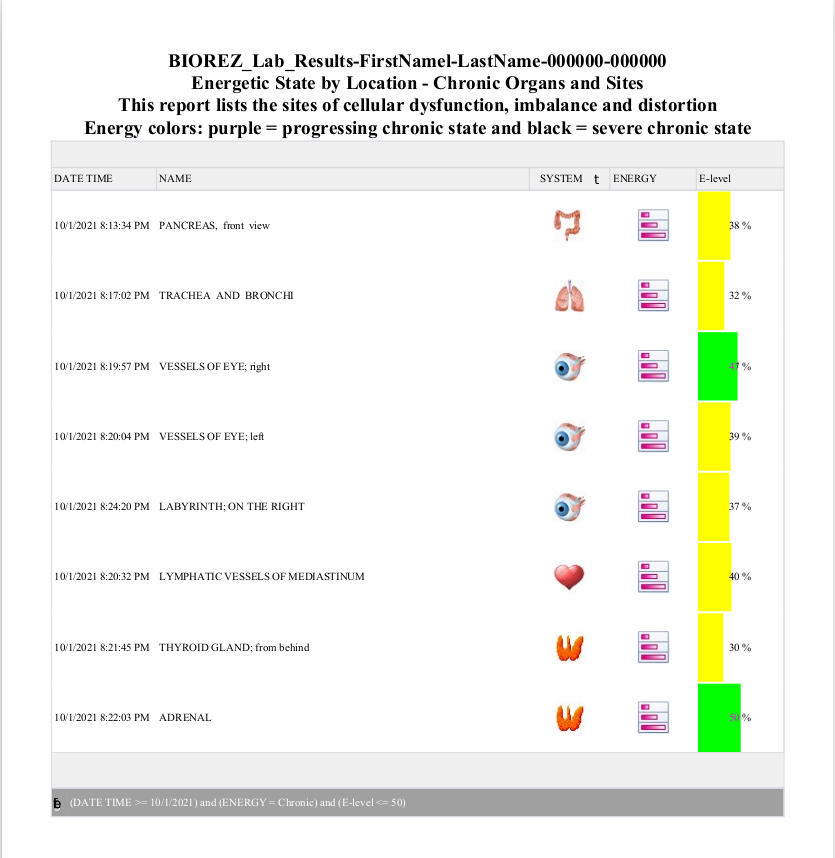 Download this example of a customized energetic state report in PDF
Important Functional Innovation
This system employs a type of scanning called 4D Torsion scanning.  Coupled with 4 highly sensitive bio-sensors, this three dimensional scanning methodology goes deeper into the body and improves the quality of analysis, especially of pathology.  The results are highly accurate (96%+) and fast (full body scan time of 25 minutes).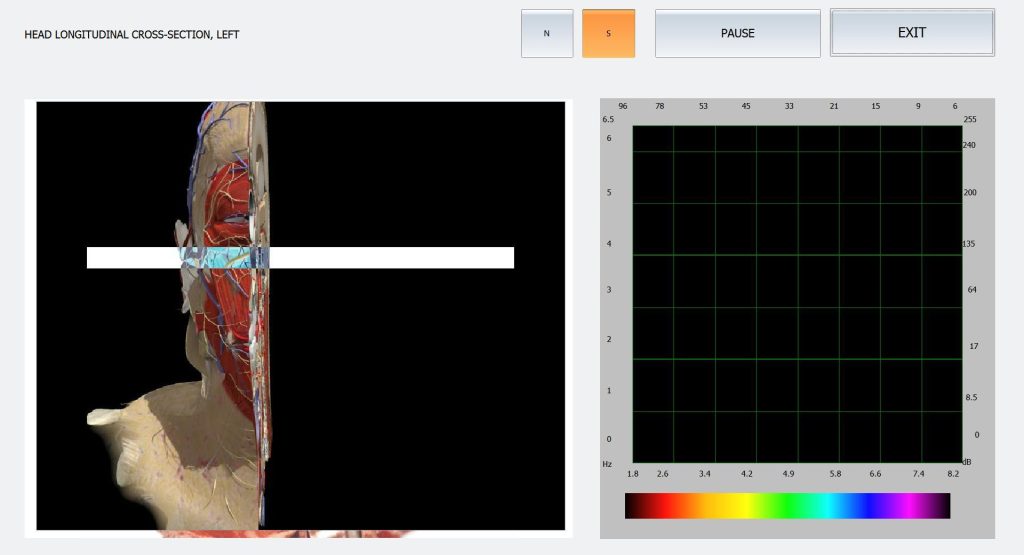 Out of the Box
All that is needed to start benefiting is a laptop or desktop computer with these specifications:
Operating System: Windows – most versions including XP, Vista,7,8/8.1, 10, 11 (both 32 and 64-bit versions)
CPU: Intel i5 / AMD Ryzen 5 and up
RAM: 8 Gb+
Hard Drive: 100GB+
Usability and Training
You don't need to be a computer expert to learn how to use this device.  The User's Manual is quite detailed and is designed to help you complete your first scan in a short time.  It comes in a digital format PDF.  Please contact us if you would like to receive a copy of the manual for evaluation purposes prior to purchase.
Your first session of live virtual instruction and training is included.  Upon completion, you will be competent in basic practice and application of bioresonance technology.  You will receive a Certificate of Completion to validate your investment.
Sales and Technical Support
We recently launched a suite of Help tools to respond to client inquiries.  A live chat and support ticketing system are in place to ensure your success.
Self Serve Resources
These additional services are included with the purchase of this system:
Resource #1 – Zammad Knowledge Base: An easy to use and actively populating Knowledge Base.
Resource #2 – Nextcloud: the BIORez Wellness Network is managed by our private Nextcloud server. You may access software (and updates), documents/manuals, an empirically validated wellness library, media for promotional use, and communicate with other BIORez Practitioners. You may also use the service to host and synchronize your files, contacts, tasks, calendar and there is an entourage of other services and apps. This service is included with the purchase of this system. Gain from the shared experiences of the BIORez team.
Resource #3 – OpenEMR: We are using a self hosted OpenEMR Electronic Health Record and Medical Practice Management solution to help automate and organize our bio-resonance labs and practices.
Affiliate Program: BIORez Network Members are eligible to join our affiliate program for the opportunity to receive commissions on sales referrals.
Brief History and Background
This device is principally based upon electromagnetism research and discoveries of Nikola Tesla.  George Lakhovsky's studies on the effects of radio waves on animal and plant life directly contributed to the development of this technology. Royal Rife took it to another level with his research on electromagnetism and the human body. He helped pioneer the new era of bio-electromagnetic therapy. His work is fundamental to the development of this technology known as Non-Linear Analysis System (NLS).  Later discoveries and application of the principles of resonance by R. Voll and Kirlian helped solidify the validity of this new era of energetic medicine.
Want More Information?
Use this website's Live Chat (bottom right corner when active)
Send an email ([email protected]) to:

Request the Digital Brochure
Request a Virtual Demo
Ask a question, comment or feedback

Order the Bioresonance Lab Test for yourself and in the process learn more about the BIORez Meta and its capabilities before investing
General
| | |
| --- | --- |
| Ideal Applications | Clinics, Spas, Retreats, Doctors, Health Practitioners, Chiropractors, Hospitals, Gyms, Mobile, Personal Use |
| Diagnosis Accuracy | 96% |
| # of Bio-inductive Sensors | 4 |
| Avg Scan Full Body | 25 minutes |
| Required Computer | CPU:Intel i5 AMD Ryzen 5 / RAM:8 Gb+ / HDD:100 Gb+ |
| Warranty | 3 years |
| Current Consumption Standby Mode | 140 mA |
| Current Consumption Generating Mode | 700 mA |
| Electrode Channels | 4 |
| Induction Channels | 1 |
| Frequency Range Channel 1 & 2 | 0,01Hz do 8MHz |
| Signal polarity at the Channel 1 output | positive, negative, double-polar |
| Channel 1 modulation possible | Yes |
| output amplitude on channels 1 and 2 (synchronous) | from 5 to 28 V |
| The frequency range generated on the built-in coil and the external inductor | from 0,01 to 200 kHz |
| Display Resolution | 420 x 800 pixels |
| The time of continuous operation of the device | 8h |
Hardware
| | |
| --- | --- |
| Host Unit Dimensions | 10.6" x 7" x 1.5" / 270 x 180 x 40 mm (LxWxH) |
| Host Unit Weight | 2.6 lb / 1.2 Kg |
| Scanning Method | 4D Torsion |
| Display Resolution | 420 x 800 pixels |
| Re-chargeable Battery | 2000mAh, 3,7 V |
Logistics
| | |
| --- | --- |
| Shipping Weight | 15.4 lb / 7 Kg |
| Shipping Dimensions | 18 |
Software
| | |
| --- | --- |
| Etalons | more than 5000 |
| Pathogen Screening | |
| Multiple Meta-therapy | |
| Advanced Auto Reporting | |
| Auto Scan Meta-therapy | |
| Save Remedies | |
| Acupuncture | |
| Aura and Chakra Analysis | |
| Physiotherapy | |
| Organopreparat | |
| Biochemical Homeostasis | |
| Pathology | |
| Microorganisms and Helminths | |
| Allopathy | |
| Homeopathy | |
| Phytotherapy | |
| Neutraceuticals and Parapharmaceuticals | |
| Food | |
| Lithotherapy | |
| Trace Elements | |
| Bach Flower & Extracts | |
| Vitamins | |
| Emotion Matrix | |
| Required OS | WIN XP, Vista,7,8/8.1,10,11 (3264-bit) |
Requirements
| | |
| --- | --- |
| Required OS | WIN XP, Vista,7,8/8.1,10,11 (3264-bit) |
| Required Computer | CPU:Intel i5 AMD Ryzen 5 / RAM:8 Gb+ / HDD:100 Gb+ |